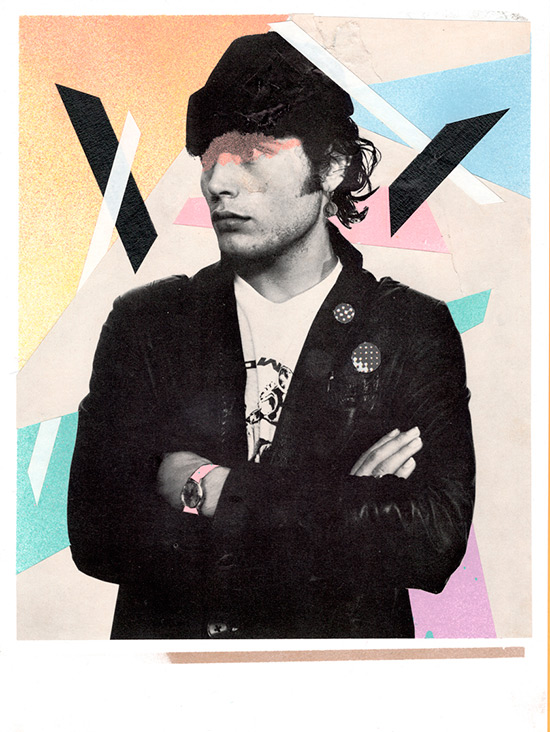 First the basic introduction, tell us little bit about who are you,what are you doing, where are you coming from?
My name is Michael Ziobrowski, and also use the Pseudonym, "X Is The Weapon". I'm a collage and abstract aerosol artist, designer and on-call curator. I was born in Chicago, Illinois, raised in southern California. I do all my living and creating from my studio in the city of Sant Ana.
Why art?
Art is very therapeutic for me. It allows me to take the edge off my days, escape the pressures of the daily grind and have something to show for my efforts at the end of a good session. My art is for me, but ends up being something that others enjoy as well, and that extra benefit, just adds to my experience and happiness as well. in Short… it feels great to create.
You have very recognizable style, if you look back your back catalogue, how you quickly you found your "style"?
Thats always so awesome to hear and be told that i have my own style, thank you.
I fee like it may have finally shown its face in about mid 2014, so about four years of getting my hands dirty, playing with different techniques and mediums. So 2010 was the year I decided to start working with tangible items again in my art, collage, aerosol, printing techniques.
Prior to this I was mostly creating art on a digital platform and Djaying, analog vinyl, quite a bit. The music was my everything, now it continues to play an inspirational role in my visual work.
"The music was my everything, now it continues to play an inspirational role in my visual work."
When you started to do art, what or who influenced you back then? And how has that changed, what/who are your biggest influences as an artist now?
I would say, with my heavy involvement in the HipHop world, making music and DJaying, that I was very into both graffiti and street art, and especially loved and respect the Graffuturism scene… but growing up in a family that filled our home with music and art, artists like Kandinsky, Mondrian, Picasso, Rothko and Franz Kline were all of interest to me at some point while growing up. My father lined the walls with paintings and had a large collection of art books, as well as amazing architecture and design books. So much good stuff to take in.
Currently, I honestly do my best to not be influenced by any one artist in particular. I casually observe contemporary artists, choosing to study their hustle and business moves, rather than style and technique. I am striving for my work to come from me organically, based on my aesthetic and interest in fashion, music, color theory and pop culture.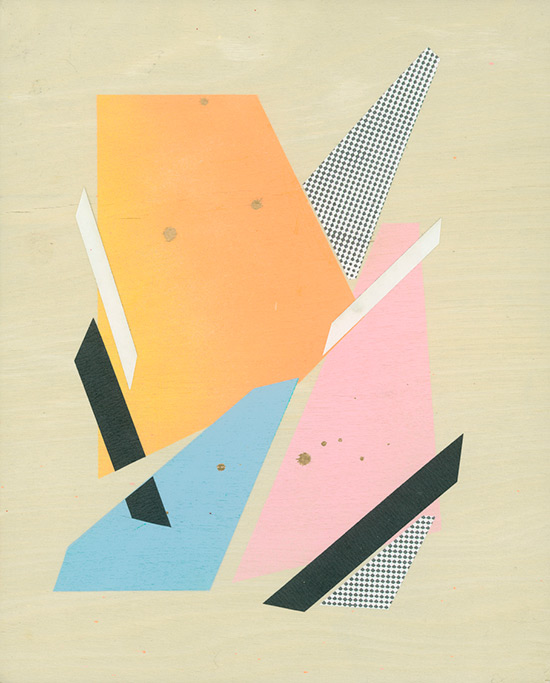 Your works are strongly driven by strict forms and certain color scenery and together in balance they create beautiful entities – but which speaks to you more, shapes or colors?
Color! I love color… playing in this world of light airy pastel pigments, the colors of spring and summer, have really spoken to me over the past year. I have always been big on experimenting with color palettes, and have progressively gotten lighter and more muted since 2010. I feel at home working in the palette I have in my work now, and I plan to continue to experiment and adjust when and where I need to.
I cannot take away from the important of the shapes as well, but I have found influence in traditional collage techniques, such as tearing paper to be a factor in expanding my outlook, into not only structured forms, but also using free form shapes and torn edges as a way to block my colors.
When you start a new piece, do you have a clear vision what you are going to do? Do you start to build a new work strictly around your vision or do you let the work build itself around the ensemble while you go?
I allow the work to speak to me and dictate my direction. With photo based collage works, that is ultimately the only way I work. I look at the image and see what negative space is available to play with, if not that, then what elements on the subject will allow me to change or embellish their outfit and their environment.
With abstract work, based strictly on color and shape. I work the same way, initially, but then once the formula is found I may go and build a collection based around that same formula and create a series of work using the same technique and work flow. This is where the pop culture and design influence comes into play. The idea of creating multiples, like a Warhol or a Ellsworth Kelly come to mind.
How critical are you are about your works, how easy/hard is to finish yourworks? During the creating process, is there any singular part where youfind yourself struggling often…..
That honestly changes with the wind. There have been many times over the past few years that I have felt like I'm on a creative hot streak, and I just do my best to continue to create daily in those moments. I like to follow the wave of creativity until it subsides. The struggles come when I am purposely striving to come with something new, for me. If I'm under the gun to prepare for a show and I've gotten a bit bored or unsatisfied with what I am currently creating. So I do my best to take mental note of something that influences me in the world, outside of art, in my ever day surroundings; billboards, building structures, decayed walls and fashion magazines…. but I have yet to hit a wall with one thing in particular. I've been blessed that way and I'm grateful for it.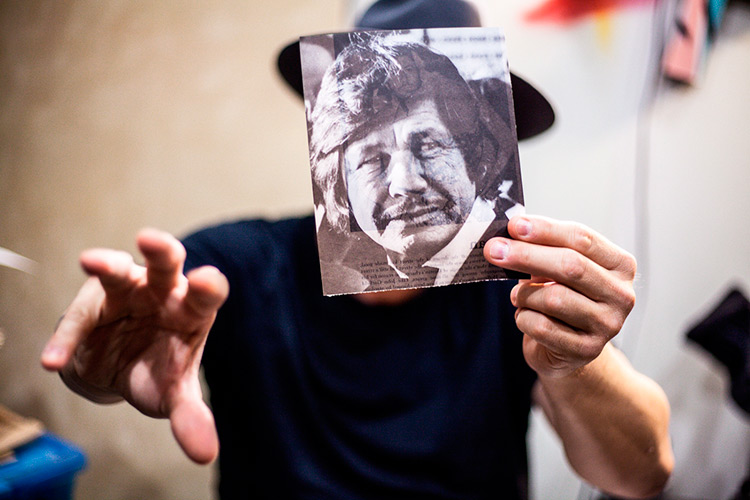 What are you trying to communicate with your art?
Honestly, nothing in particular… maybe happiness and escapism. I want people who see my art to be able to get lost in what they see, as much as I lost myself in creating the work.
You have done such a wide range of things during your career, from murals to drum skins just to name something… So what's next, after all that, what drives you forward as an artist?
I continue to create collage work, look for larger scale work and other ways I can put my art onto tangible goods; be it a mural, or more drum kits and skins… I would love to have works licensed for advertisements, album covers, patterns on clothing.
I'm working on a few cool projects at the moment that I cannot share yet, but I'm excited about the opportunities coming my way. I hope they can help open the door, and provide more chances for my art to be seen on a larger scale and to a wider audience. I want to look into some representation as well. I know like anything, it's important to have a team advocating for you. Being an artist and your own PR and marketing can be tough and take away from the creative energy needed to take things to the next level. So when outlets like yours take interest, I'm always very appreciative for the love and exposure.
If you should describe your art with one word, what would it be?
BLOOMING
Michael Ziobrowski around the internet:
Homepage: http://xistheweapon.com
Instagram: www.instagram.com/xistheweapon
Facebook: www.facebook.com/xistheweapon