First the basic introduction – can you tell us who are you, where are you coming from and what are you doing?
I'm a visual artist and book designer from Leipzig, Germany. I studied communication design with a focus on book design and illustration. Since setting up my studio 'Bildschriftlich' I have worked for international brands, cultural institutions and artists. Between 2011 and 2017 I taught at Burg Giebichenstein University of Art and Design and gave lectures and workshops on books and illustration at the Kunsthøgskolen i Oslo (Norway) and Klingspor-Museum Offenbach, for example.
Why collages? What was about the medium that spoke you?
As soon as I started studying at the university I developed a passion for working with ready-made pictures. Traditional techniques like painting and drawing also inspired me, but especially doing collages is a way for me to work as a compositor and at the same time to cross-refer to different media like photography and printing graphics.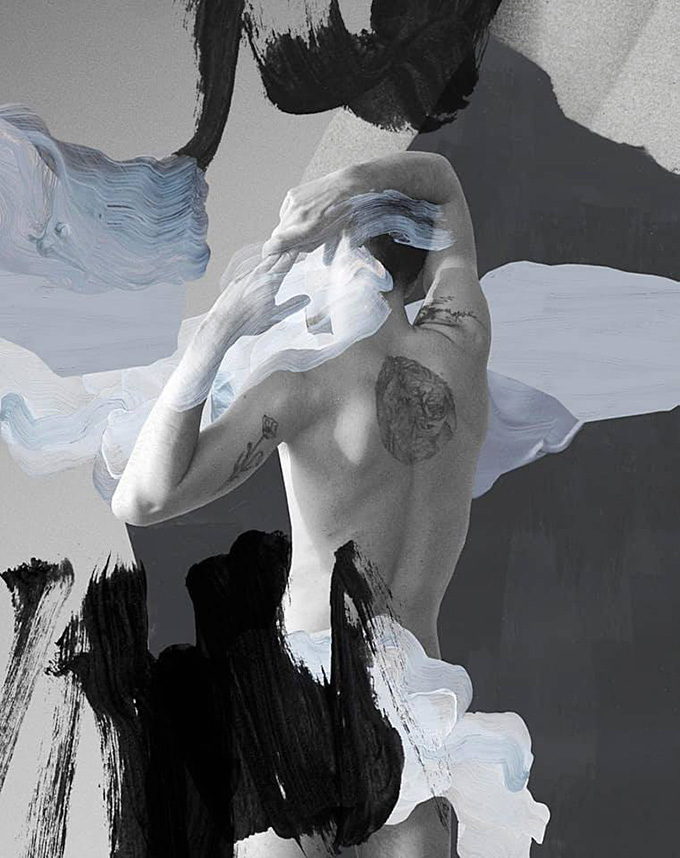 Your works are beautiful mixture of human form, abstract shapes and usage of mixed media elements like paint strokes and doodles – If you look back your very first pieces, how you quickly you found your "style"?
My emphasis on collages started four years ago with a series named 'Daemonien'. It was an experimental series where I combined photography with collage fragments, painting and drawing. This was the starting point for my current aesthetic.
The visual language in my collages and illustrations is defined by combining different materials, textures and structural layers. I try to play with abstraction and anonymisation of the human body with the technique of collage. I add painting and drawing to my collages to make the concept of different layers even more perceptible.
"I try to show the body as a projection surface – questioning the individual identity."
Like previously said, in your works you have a lot of human bodies/torsos used as abstract object. What fascinates you to use human form as as a main element in your works?
Most themes in my works are personal. I'm interested in the human body, its anatomy and identity. I like to play with abstraction and anonymisation of bodies. In my artworks, I try to show the body as a projection surface – questioning the individual identity. I have noticed that the audience reacts strongly to this kind of motif. Somehow it's always about finding yourself in there which also inspires thinking about and feeling into your own body and with that your own identity.
How important is the meaning you believe a piece of art has to you? Do you want your viewers to understand or know why you made your art?
Most of my collages are kind of personal – because of this they have a lot of meaning to me. I work very intuitively with collages, letting flow into them what inspires and influences me. My artworks absorb what is around me and what keeps me busy. These aspects and messages can be very subtle in the finished piece. Primarily, I want to connect to the audience's feelings, memories and associations with my art.
What does collaging and your art means to you?
Doing art is a kind of freedom to me. I'm able to work on very personal thoughts and figure out different creative methods to transfer them into something more abstract. With each project I can learn something new about me and my working process.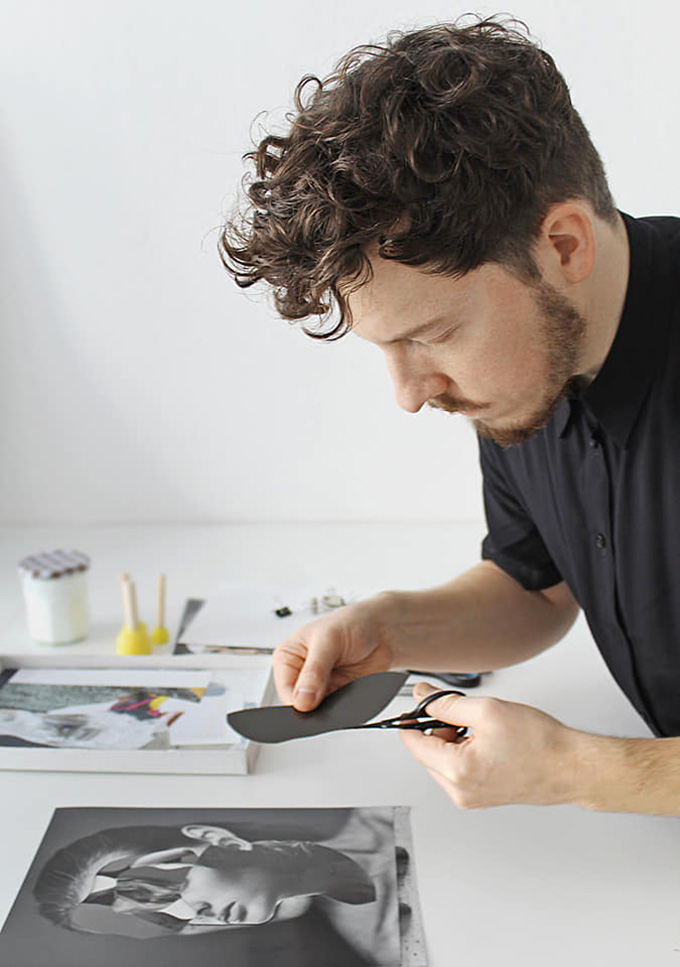 What influences you as an artist? And how things influence you?
Time is a very important aspect in my work. Having enough time to work on an artwork, to think about it and re-think it, to pierce through, to put it aside and continue with a different view on it – this inspires me a lot. Most of the time, I get inspiration from the procedure itself. Furthermore, one could say that the working process often becomes substance of the subject of my artwork as well. Besides that, I find great inspiration in pop culture, fashion, literature and in my own personal memories.
How easy or hard is to finish your works? Do you ever get burnt out on a piece, and then, what do you do to keep working and being productive?
It depends on the individual piece. Sometimes I'm working over weeks on an artwork, and sometimes a new piece can be finished in minutes or hours. My work is characterized by a search to the inner self, by reflecting and thinking about my own identity and my emotions. There is always a strong interdependency between me and the artwork. This dialogue affects how long and intensively I can work on it. Sometimes this process can be very exhausting and even misleading. But with each new project comes an exciting feeling to start a new search to something hidden. This keeps me being productive.
You have showcased your works in art show, published your on art books and been featured in many publications… What's next? What drives you forward as an artist?
I would love to work on a new solo exhibition this year. It is not really planned yet but this idea drives me further.
If you should describe your art with one word, what would it be?
Emotional
Stefan Gunnesch around the internet:
Instagram: Instagram.com/stefan_gunnesch
Homepage: Bildschriftlich.de