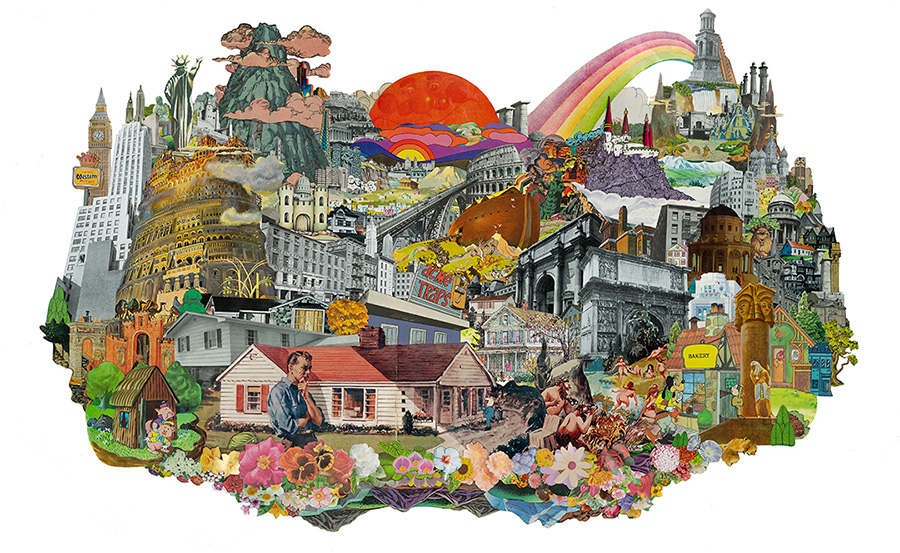 First few basic questions, who are you, what are you doing, where are you coming from?
My name is Morgan Jesse Lappin, son of the gods known as Craig and Pamela Lappin who hail from Mt.Olympus, NYC. I figured out who I was and why I was here around 2007 when I moved to Brooklyn, NY when I took on the artist life across the board. My parents, both born in NYC, raised me to just be good to one another, Born Jewish, but never followed religion strictly, my mother was more spiritual rather than religious. My dad, a hippy/brawler from the Bronx sent to the Navy so he wouldn't get in trouble (seems like an oxymoron but he's got the role down to perfection – two most important things for the last 40 years though, marijuana and the Yankee's).
I grew up in Rockland/Orange County – NY, grew up closely with my wild cousins, making crazy videos with puppets, remaking batman the movie, playing epically long text-based adventure games on the Atari ST, and tried to watch every cartoon and movie known to exist. Music was equally important, my Dad, who was my best friend, made sure to school me in the ways of The Beatles, Frank Zappa, and strange movies like Heavy Metal to El Topo.
Why collages? How did you start to do them?
How did I start to do them? Collecting strange toys and Knick knacks were handed down to me from my eclectic parents. Both obsessed with music and film, I didn't miss a beat when it came to hearing the newest rock and seeing the newest 80's sci-fi movie. It became a big part of who I am today. This, of course, plays a huge role in my process when it comes to making collage. I had many different collections throughout life, from small-dollar store cottage sculptures to egg rocks, GI-Joe's to a collection of small elephants, and even a collection of pewter fantasy characters.
I fell in love with all of my collections and they made me feel at peace in my room. When I started collaging, I raised the bar in collection, having hundreds of categories of Organized clips I collected from vintage publications.
This, and when it came to cutting the images, was very therapeutic for a young man with ADHD. It was where I can find peace within myself, and was able to block out all the anxious or Negative thoughts I would have at the time. This has become a source of meditation and has been since I can remember.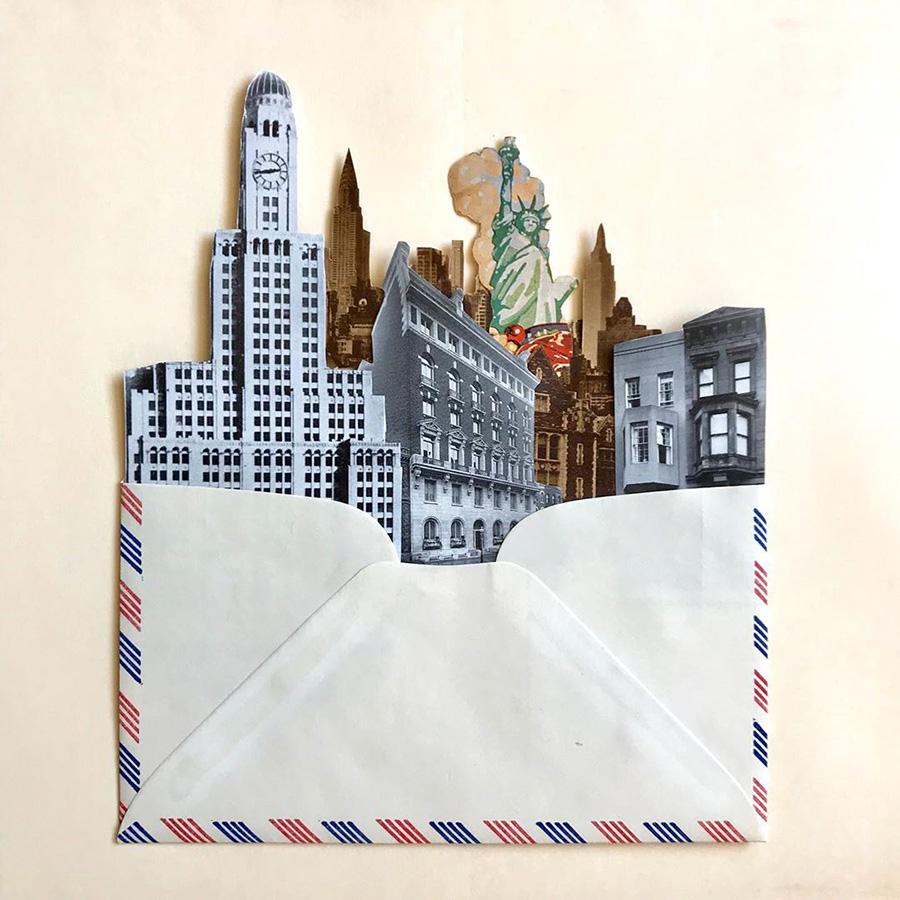 Digital or analog? If analog, then scissors or blade? Glue or tapes? What art supplies do you use?
I've been using photoshop as long as I can remember, but I can tell you this, digital collage is something I would never do even for consignment. To me its a completely different world than Analog Art, the physical hunt, and the cutting, its the number one reason why I do what I do. When I first started I would use scissors and glue images, place the paper between two books, and would stand on them while I watched I LOVE New York on cable TV to keep the wrinkles from forming in the paper. I very quickly changed my style and in 2008 I switched to artist tape, double-sided tape, traded my scissors in for a blade, and never looked back.
What are your favorite source materials? How do you find them? Do you spend a lot of time while looking for them?
It all started with Encyclopedia's.. and even early on, I just refused to use National Geographic. When Instagram hit, it was a major portal for collage artists. I'll never be able to pinpoint the reason why Instagram proved to be a huge component in boosting and sharing the popularity of collage, but I'm grateful for that. Collage still has a ways to go to catch up as being respected as fine art, and I dedicate myself to fighting to make that a reality. Since using encyclopedia's, I've just used random obscure retro/vintage publications/Books from LIFE magazine to Fangoria.
How often you create art / do collages?
Honestly its sort of what I do every day of my life in one way or another…
How easy or hard is it to finish your works? Do you ever get burnt out on a piece, and what do you do to keep working and being productive?
Not sure how this is possible, but I think I could entertain myself till my dying day. It's never difficult to finish work, and from work to work my colors/style/approach completely changes, and then circle back to the beginning.
What's your personal favorite work? What makes it stand out?
I love all my children… muahahaha… I'd have to say Dracula's Bitches… it's one of my first, and still to this day one of my strongest. I also had tons of stickers made which I made sure to slap on every NYC corner possible.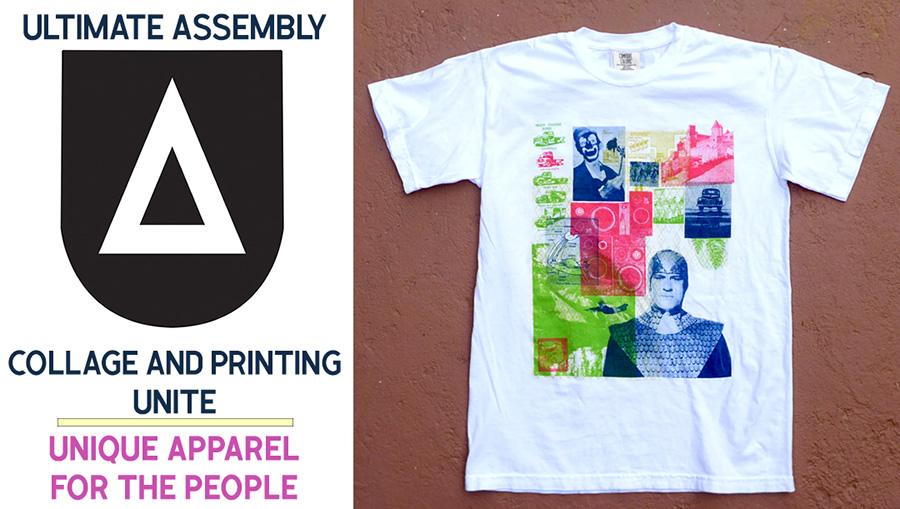 During the past few years collage as an art form has gained more and more attention in the media, etc – besides being an artist, you're yourself very involved in the art scene (@brooklyncollagecollective and @ultimate.assembly), how do you see the current situation and then the future of the medium?
Yeah, I see the current situation, and it's an uphill battle I won't give up on. Brookly Collage Collective started in 2013… and has been through a bunch of different evolutions, some people move, some people realize they don't have the time, some people totally change personalities, and the list goes on. At this time, I'm the only survivor. The BCC at this time serves as a gallery and the web site is currently used as a blog where I interview my favorite collage artists, usually asking them questions you don't usually see in an interview.. I was tired of the copy and paste, bullshit, empty, cliché, interviews.. decided to get more personal and push for what's important to hear. No one in Brooklyn has time for anything, especially for love, so sad.. haha…
Ultimate Assembly was a long time coming. In 2006 I started a company with a good friend in Orange County, NY under the name, Daydream Silkscreen. We rocked all the craft shows, Renegade, Artscape in Baltimore, and so on… eventually I moved to Brooklyn in 2007… but we kept in touch, and eventually came to the conclusion, that it would only make sense to team up once again, with evolved visions, as we never lost love for being creative and productive. We wanted to combine the art of analog collage and printmaking… and so after coming up with over 200 names over 3 months, we decided on Ultimate Assembly.. and would you believe, both the URL and IG name was available? I literally shit my pants.. no, I really didn't but.. seriously, holy SHIT. So yeah, it was meant to be. GAME ON! We just had our soft web launch early October, but learning a lot, and a ton of more changes to come, but we're ready to do what it takes to make unique apparel for people who appreciate the work that goes into the craft of what we're accomplishing.
We plan to launch our next line with a completely updated website in mid-November. The theme will be Deco, and we have a contest to win prizes to celebrate, so keep an eye out on our Instagram and Facebook for more info on that.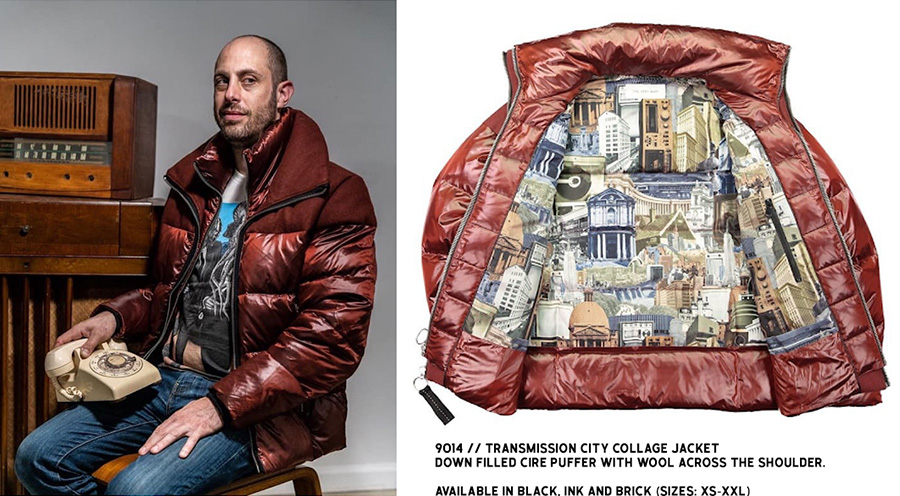 Besides the art and shirts, I've recently rolled out my own line of Limited Collage Jackets that sold out through Nordstrom's in 2017. They're currently on sale directly through me with more info on my Instagram: @morgan_jesse_lappin – They're literally so warm you can cross the North Pole and still sweat like a Pickle inside a donut.
Along with art, t-shirts, and jackets… I've recently teamed up with a game-changing digital apparel print company under the name S0lstice to produce the Limited Edition – Gang of Friends / Fleece Hoodie. SØLSTICE, or SØL for short, was created to be the ultimate brand for your adventure-seeking artistic lifestyle. The SØLSTICE brand provides high quality, unique fashion for those seeking performance and comfort in the world of art, adventure, sports, and ultimately living. They aim to innovate our apparel to inspire and to pioneer generations of progress. I would suggest all artists to contact them and form a relationship, they're great people to work with.
And OH, I make music as well.. which is really my #1 passion…
"Collage allows me to focus, block out anxiety all together"
What keeps you collaging? What excites you about it?
It's therapeutic, I was born with ADHD, which is a blessing and a curse… working with collage allows me to focus, block out anxiety all together… it helps me get my thoughts together, with a positive feeling behind it, and I just feel at center with myself, zen if you may. I also want to prove that collage is a credible art that should be accepted as fine art. A lot of my work ranges from page size, 8×11, up to works that reach 7+ft wide x 3ft tall consisting of hundreds upon hundreds of hand-cut images. I also love sharing the art of collage, and throughout the years I've been making connections with amazing people in Brooklyn who support the medium
I wanna give a special shoutout to a new gift popup shop opening next week by I Bud You & Emerald Magazine. The Personal Stash Gift Shop is located @ 175 Roebling Street and is stocked with products by local NYC artists such as Puff Cards, combining local art and the sweet herb. I'll also have my custom collage jackets available, original collages, as well as select merch from High Times Magazine snd MORE. Eventually there will be more news on this collaboration so stay turned to my IG @morgan_jesse_lappin and through @brooklyncollagecollective.
If you should describe your art with one word, what would it be?
Ouch
Morgan Jesse Lappin around the internet:
Website: Morganlappin.com
Instagram: @morgan_jesse_lappin
Collective: Brooklyncollagecollective.com