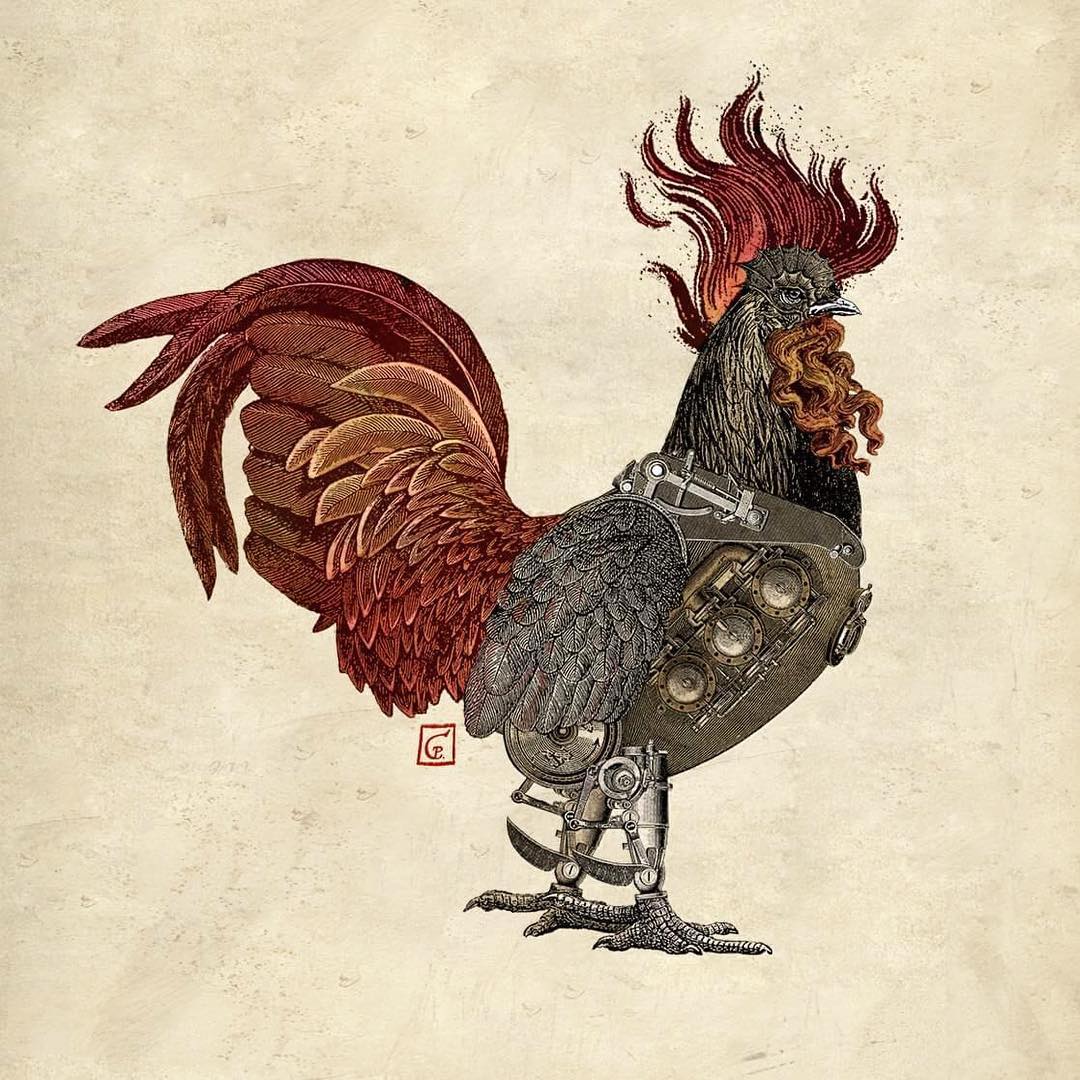 First the basic introduction – can you tell us who are you, where are you coming from and what are you doing?
I'm Celsius Pictor and I'm an art director and illustrator. I have lived in Madrid for many years, although I grew up in Ourense, a small town in the north of Spain. Right now I work as an illustrator from my own studio and from here I try to develop my own artistic language.
I love how your works look like really old woodcut illustrations but then there is always some clever twist – how would you describe your style? And how you quickly you found your "style"?
My current work style was born from a project called Monsterkompendium, which tried to mix the medieval compendiums of animals and vegetation with the notes of naturalists like Darwin, showing a different evolution derived from the Industrial Revolution. In this way I have started to work making collages with engravings and old drawings, creating compositions that try to show nature's sense of humor, play with the viewer or tell stories and over time that game has become a proper language that perfectly reflects my character – elegant, meticulous, fun and baroque.
"Thanks to collage I have finally achieved a style and language that I can call my own."
What your art and collaging means to you?
To me collage is a tool of expression and communication. Whether it's an assignment or a personal work, I try not to do anything that does not include a bit of me or my way of seeing life through humor or some social criticism. I have 15 years of career as an illustrator and thanks to collage I have finally achieved a style and language that I can call my own. I do not know if I can say that I do art, because that would put me at the level of geniuses like Hyeronimus Bosch, Max Ernst or Man Ray and I think I'm not yet, but I think I'm on the way. I think maybe that's something that others can say about my work, but I do not dare.
What's the best part of the collaging process?
For me the best part is the search for the pieces, the plan how I'm going to face each work and how they put me challenges or rules to execute it. Whether it's a commission or a personal artistic work, I like to impose myself rules to complicate the technique a bit and see where it takes me.
And then, what's the hardest part?
The hardest part is getting to tell what I want. Sometimes it takes me a long time to find the pieces that I need or to compose as I think it should be. I'm very perfectionist and critical of my work and I always try to do finished  and clean works, and sometimes this takes too much time and effort.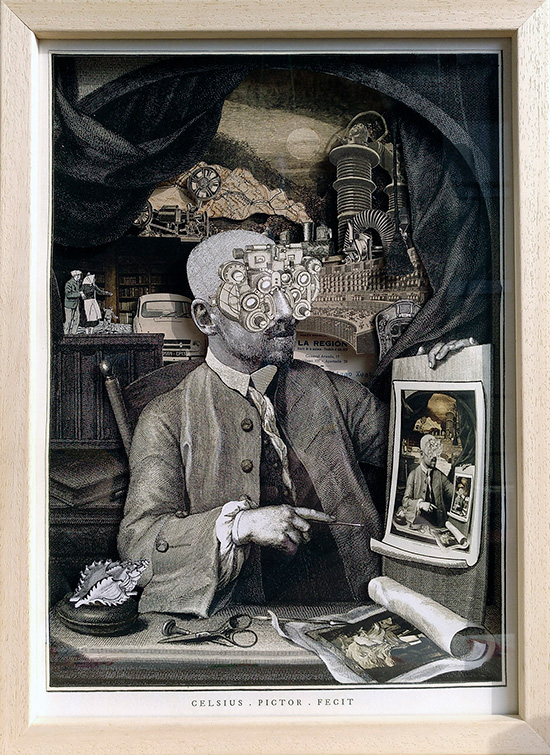 Which one of your works presents/reflects you the most?
I think the last piece I made for an exhibition of Self Portraits is like a mirror for me. I am very fond of him because it is a kind of analogue autobiography in a diorama of 5 cm in depth. I wanted to show my humble origins in a small village of farmers, my hobbies and how I have become who I am, to end with that eternal look of self-criticism that I think is proper to the artist.
In your opinion, how does your work differ from others in collaging?
I'm sure that for me collage is a tool, another vehicle to express myself and to communicate my ideas, and I think that for me collage is a means, not an end in itself. In fact lately I've started drawing again and like Max Ernst did, sometimes I draw parts of my pieces that are integrated with collage images without being able to differentiate, in a mixed technique. I think that's my point, I'm an illustrator and I use collage as I could use pencils or acrylics, as a tool and not as a purpose.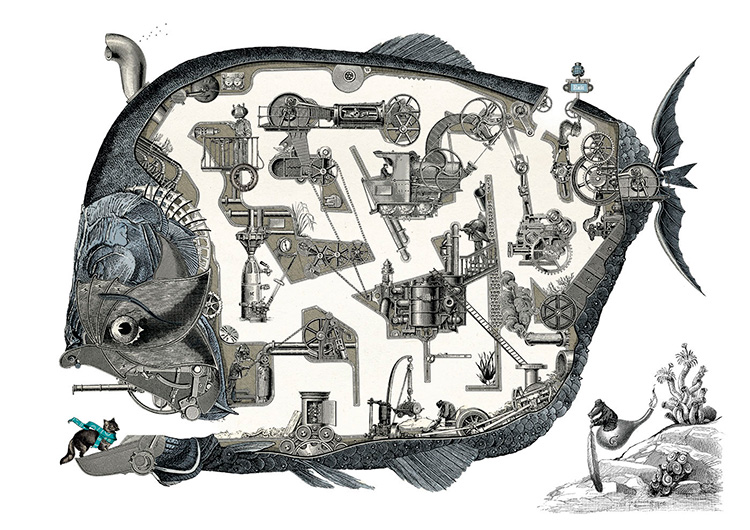 When you started to do art, what or who influenced you back then? And how's that changed, what/who are your biggest influences as an artist now?
At first I was not aware that I was making art or that this was going to be more than a creative unlocking exercise. Then I've discovered the work of Max Ernst or Fritz Kahn and I began to investigate the use of engravings in collage mixed with pictorial techniques and today I follow the work of authors like QTA3, Pablo Balzo, René Apallec, Wolf Erlbruch or Pep Carrió, and even Raymond Lemstra. I´m passionate about his work.
What is your studio/work space like?
Although sometimes I work in a studio shared with some great illustrators of Madrid, I have my own studio at home, a small room of 3×3 meters with many shelves full of old magazines, manuals and dictionaries of the early twentieth century and my tools to cut, like a small and motley cabinet of curiosities. But although sometimes I do pieces in analog form, I have a Cintiq 22HD which is where I do most of the digital work, even if it consists of mixing pieces that I have previously drawn or scanned.
If you should describe your art with one word, what would it be?
Recently a gallerist called it "goldsmith work", and I liked this name very much.
Celsius Pictor around the internet:
Homepage: Celsiuspictor.net
Behance: Behance.net/celsiuspictor
Facebook: Facebook.com/monsterkompendium
Instagram: Instagram.com/celsiuspictor/