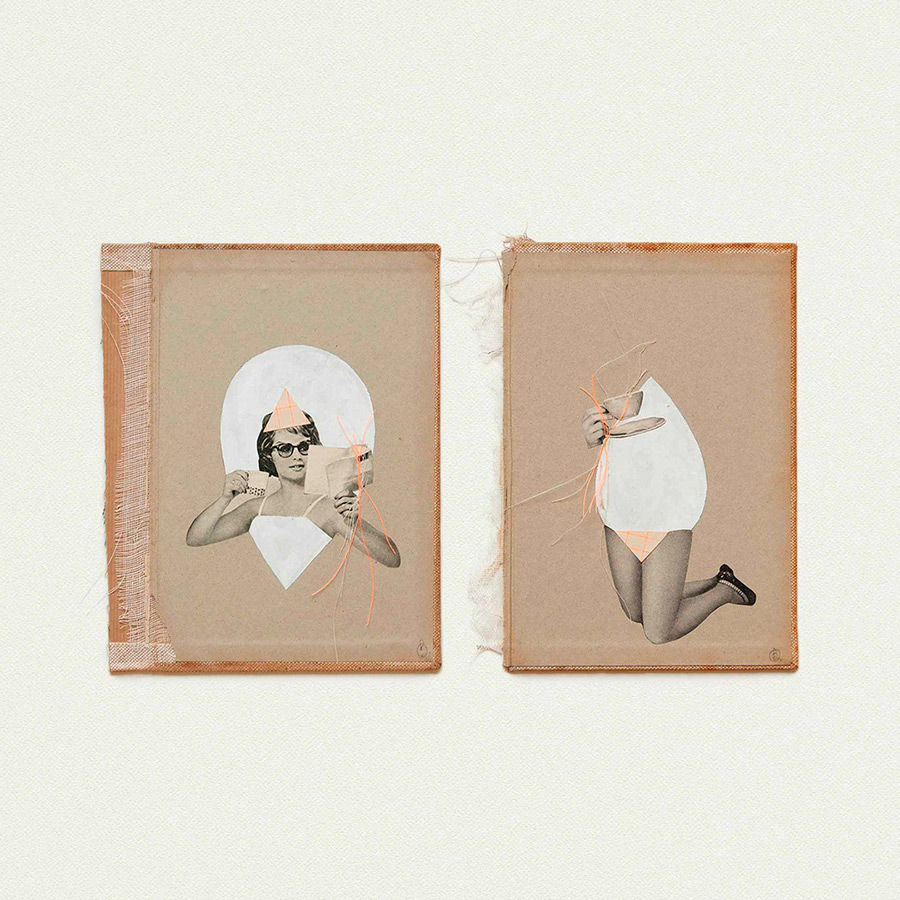 First the basic introduction – can you tell us who are you, what are you doing, where are you coming from?
I'm Dominique Barberis, I'm a graphic designer and collage artist from Antwerp, Belgium. I studied graphic design and illustration. Together with my husband, I run my own design agency EHBOntwerp.be.
Why collages? How did you start to do them?
As a graphic designer, I spend a lot of time behind a computer. Making collages by hand is a welcome distraction from the digital world. I have been collecting old books and magazines for a long time. These kept piling up, so one day I thought I should do something with them. That's basically how it all started. Although the first time cutting up one of those old magazines was difficult, a bit like cutting in someone's soul.
What's the best part of the collaging process?
Assembling the collage and creating a story is the best part of the process. It is very satisfying when a story unfolds itself while creating the collage. I never start with a lined-out idea, the making of the collage is the same as creating the story for me. Especially since I am limited to work with the materials I find in my collection of old magazines, which makes it extra challenging. When all the pieces fall together into one complete artwork, that is very satisfying.
And then, what's the hardest part?
This is actually almost the same as the previous answer. Creating a collage with a limited set of materials is the best part, but also the hardest part. Sometimes a collage needs a certain element to complete it, but when I don't find this element in my magazines, I have to keep working on the collage with other pieces. Sometimes I even create a whole new collage/story in this process.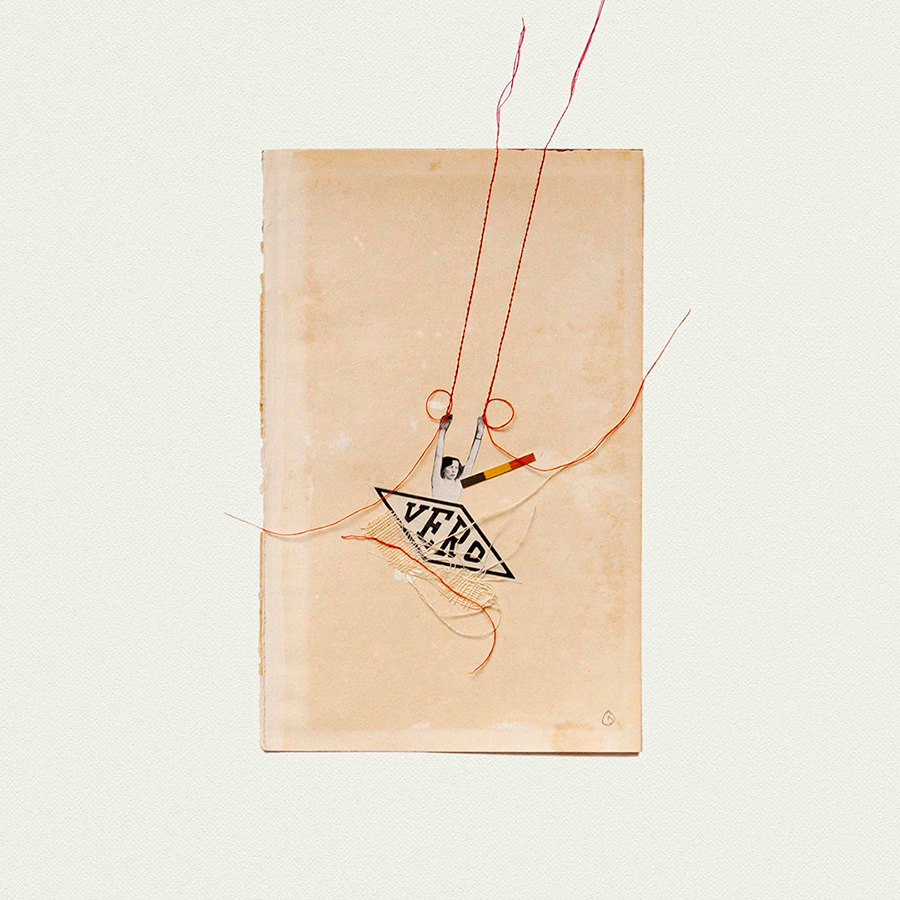 In your artworks, what are the most important things/elements to yourself? Do you have certain things that you notice to pay more attention to, like shapes/forms, content?
Hopefully, this has already become obvious in my previous answers, but what is most important for me is that my work tells a story. I tell my own story, but everybody can see something else in a collage, everybody can create their own story. That's what makes it interesting. I try to create my own story in an organic way. Tactile, subtle, pure. Balanced, but with a surprising tension. Of course, aesthetics are also important. The colors and shapes have to blend well with each other. Therefore I use extra techniques in my collages to strengthen the whole, like painting, drawing, sewing, typography. I created a number of works with the same element, a 'drop', which I use in different ways. Sometimes it is painted, sometimes cut out, only used half. Often I play with words for the titles of my works, so they get a double meaning.
How much your works reflect your emotions/views/ideology?
Without emotion, there is no work. I try to visually talk about love, joy, farewell, comfort, closeness, freedom – Open and inviting, with room for your own story.
What are your favorite source materials? How do you find them and do you spend much time while looking for them?
I mostly start with old book covers and magazines. It is important that the material has had a life, that makes it more interesting to work with. When I am working with book covers, I try to give them a new life. Their story has been told, I take them apart and create a new story. That is why most of my works are made in sets of two, the front- and back cover of a book. I take out the pages with the original story and create a new story between both covers. In times of extreme waste, I try to recycle as many old books and magazines as possible and give them a new life. I get these materials pretty much everywhere I can find them, via online ads, junk markets, friends, container parks… I'm always on the lookout for new stuff.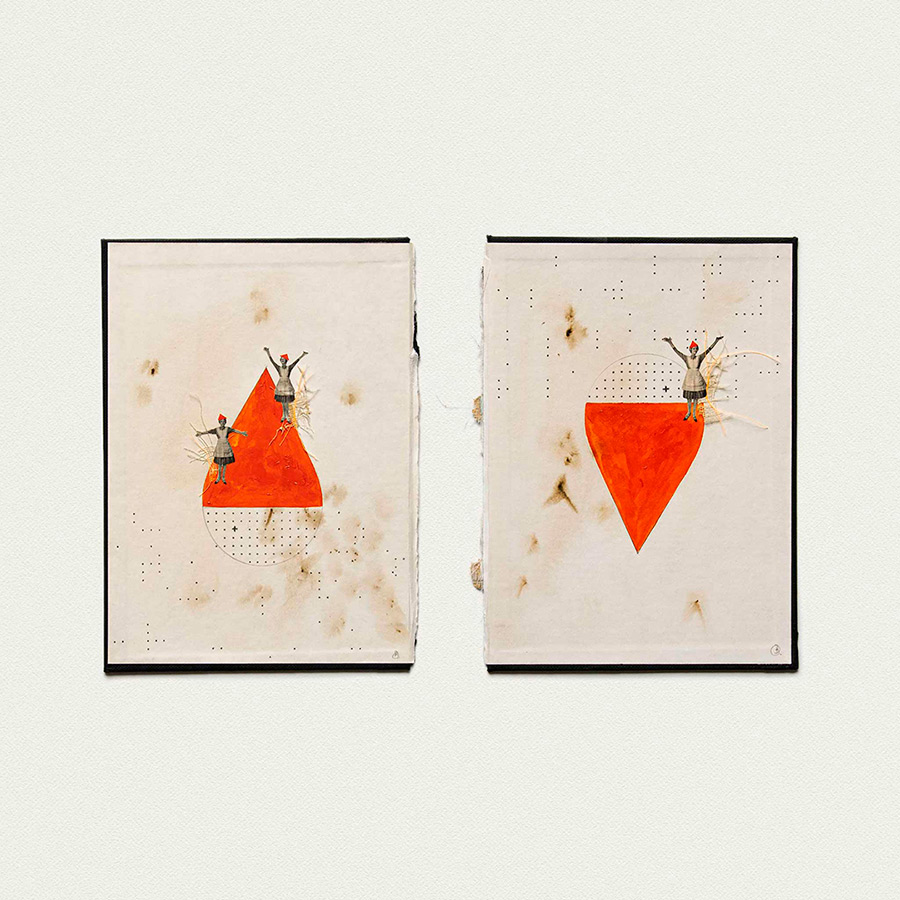 Do you have any creative rituals?
I don't know if you can call it a ritual, but before I start to create, my studio has to be totally clean. While working it becomes complete chaos, with papers and materials scattered around everywhere. That's when I can create the best.
What keeps you collaging? What excites you about it?
Telling stories. Bringing an ode to beauty and fragility. As long as I can keep doing that, and people get touched by my work, I will keep collaging. Because that's what makes me happy.
If you should describe your art with one word, what would it be?
If I have to put it in a sentence, it would be 'Creating stories by visually talking about emotions.'. If I can only use one word, I can't choose between 'Stories' and 'Emotions', which are basically the same to me 🙂
Dominique Barberis around the internet:
Web: Dominiquebarberis.be
Instagram: Instagram.com/dominique.barberis